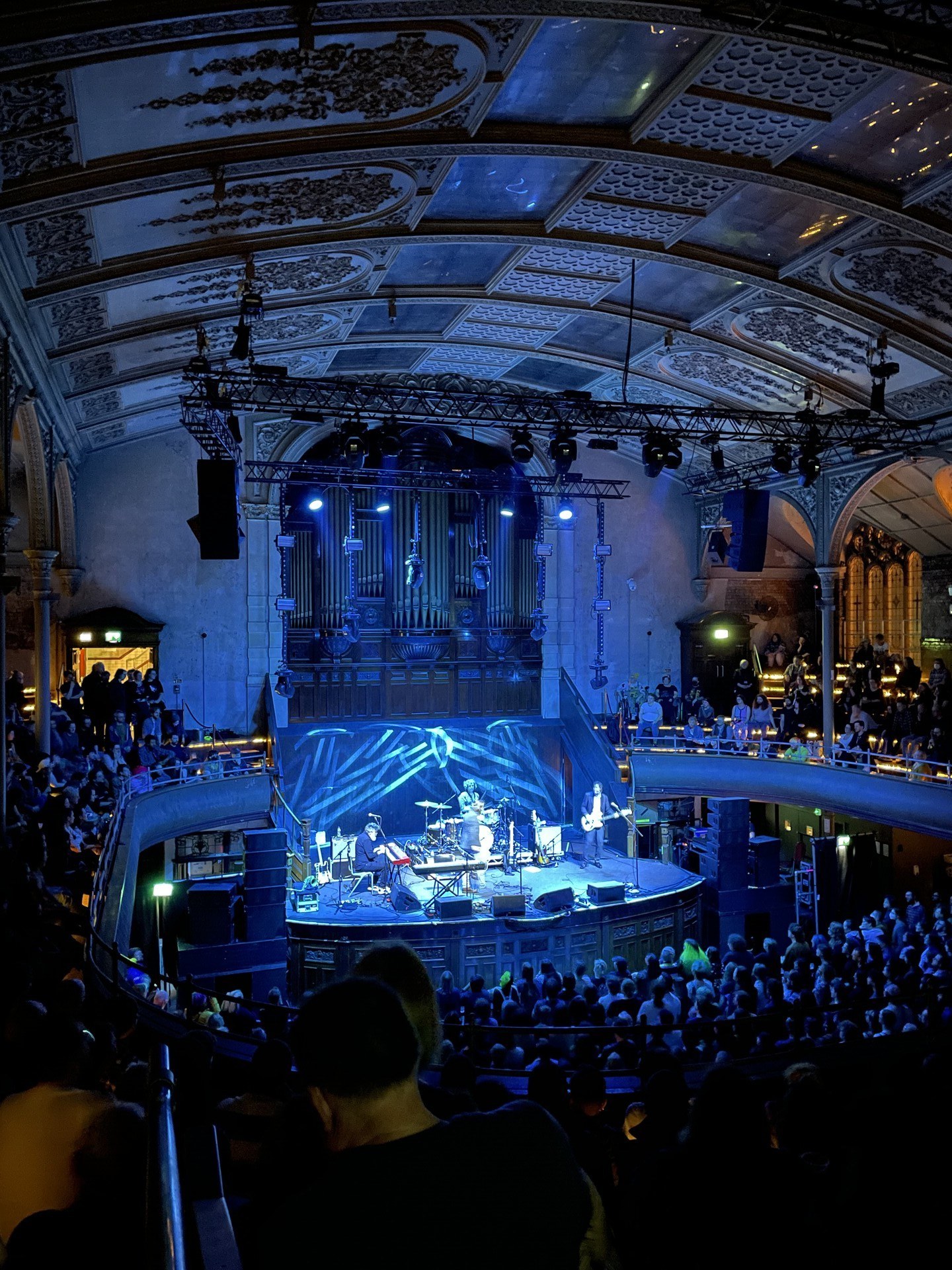 Back in Manchester for the Mountain Goats show at The Albert Hall (no not that one). I said it last time and I'll say it again: Manchester is probably the best city in the UK. The best one in England at least. It has the busy feeling of something happening everywhere that you get in the big cities—which I love—but there's always a little nook that you can escape to if you feel overwhelmed. You get the sense that through every door, there's a fractal of interior life waiting to be explored and experienced.
Anyway, after dinner we made our way over to the venue (by foot; Manchester is very walkable) and found a spot. The Albert Hall has a regular pit-type area, level with the stage, but it also has a horseshoe-shaped mezzanine above the stage, with tiered seating. No assigned seats—everyone just sort of plonked down wherever space could be made—so we had to meander about for a little while before we found a spot to park ourselves. I haven't been to a seated gig for a while, but it was a welcome change of pace!
The Mountain Goats, predictably, have a sort of mid-2000s indie energy that's very catching for people of Sam & my vintage. Think: bootcut jeans, crumpled sport jackets, glasses, bouncing up and down while playing an acoustic guitar. John Darnielle has a commanding stage presence—he's got such a distinct voice and vibe that you can't help but look in his direction, even if he sort of looks like Death Cab meets John Oliver.
I think the real standout of the night was multi-instrumentalist Matt Douglas, who filled out the sound with keyboard, saxophone, electric guitar, and backing vocals. The Mountain Goats have a very distinct sound, courtesy in no small part to Darnielle's voice, but Douglas did a fantastic job of adding complexity and surprise throughout.
Next
Memories of me watching a launch, watching a launch from Titusville
Previous
I'm on Mastodon, and I quite like it.