This is the fifth post in a multi-part series about our trip to Stockholm in fall 2023. All entries here.
Up early for a final run in Stockholm: so far I'd explored north and west, so it was south-east for me on a morning I could only describe as brisk: chill, dry, a faint blue tinge to the air. Commuters on bicycles flying silently past, trailing chic scarves.
Straight down to Hammarby sjö, a lake pretty much only in name, a series of marinas lining a shallow lagoon connected by canals north and west to the other watercourses of Stockholm. Lovely running through here: broad paved promenades fronted by modern barbecue joints and design agencies.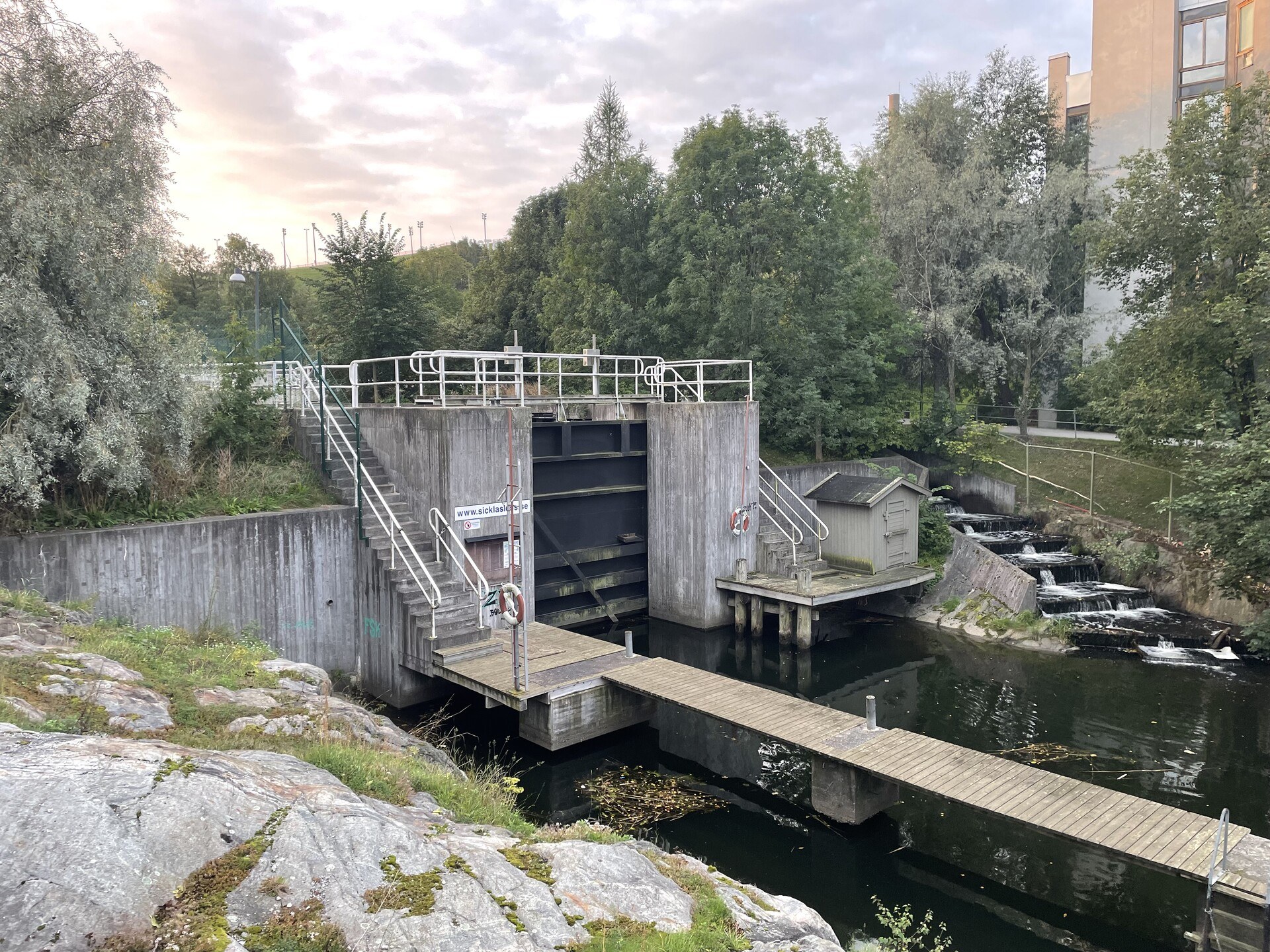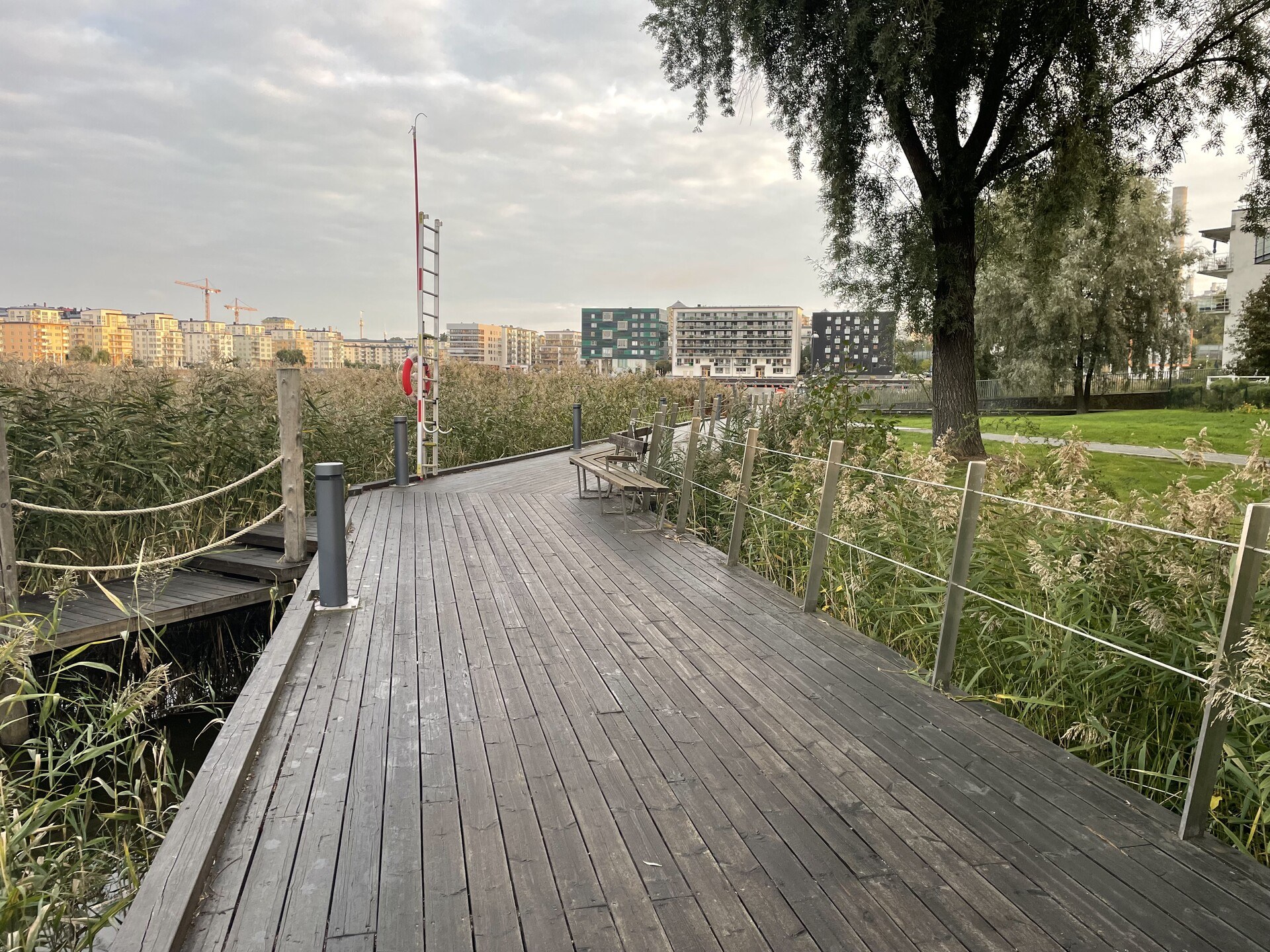 Something Stockholm does that I've never seen anywhere else: put their open-plan offices on the ground floor behind massive plate-glass windows. You can just look in and see everyone going about their days: powerpoints and Figma and emails. If these agencies produce physical media, they'll usually have it on the back walls, or otherwise mounted on the little radiator pedestal in front of the window, almost as if to advertise their acumen. To the side of the bullpen, also before massive windows, will be a meeting room, where (I assume) agencies compete to see who has the most progressive lounge chairs.
Around the corner from our hotel, between a single 12-foot pane of glass and a rear wall covered literally floor-to-ceiling in awards, four chairs supported exclusively by braided leather in tension. On the merit of these chairs alone would I hire these folks to design my house, had I but the money.
I run past a pile of rusty old bicycles and grime-coated electric scooters. They have apparently dredged from the shallow mud of Hammarby sjö and left here for collection.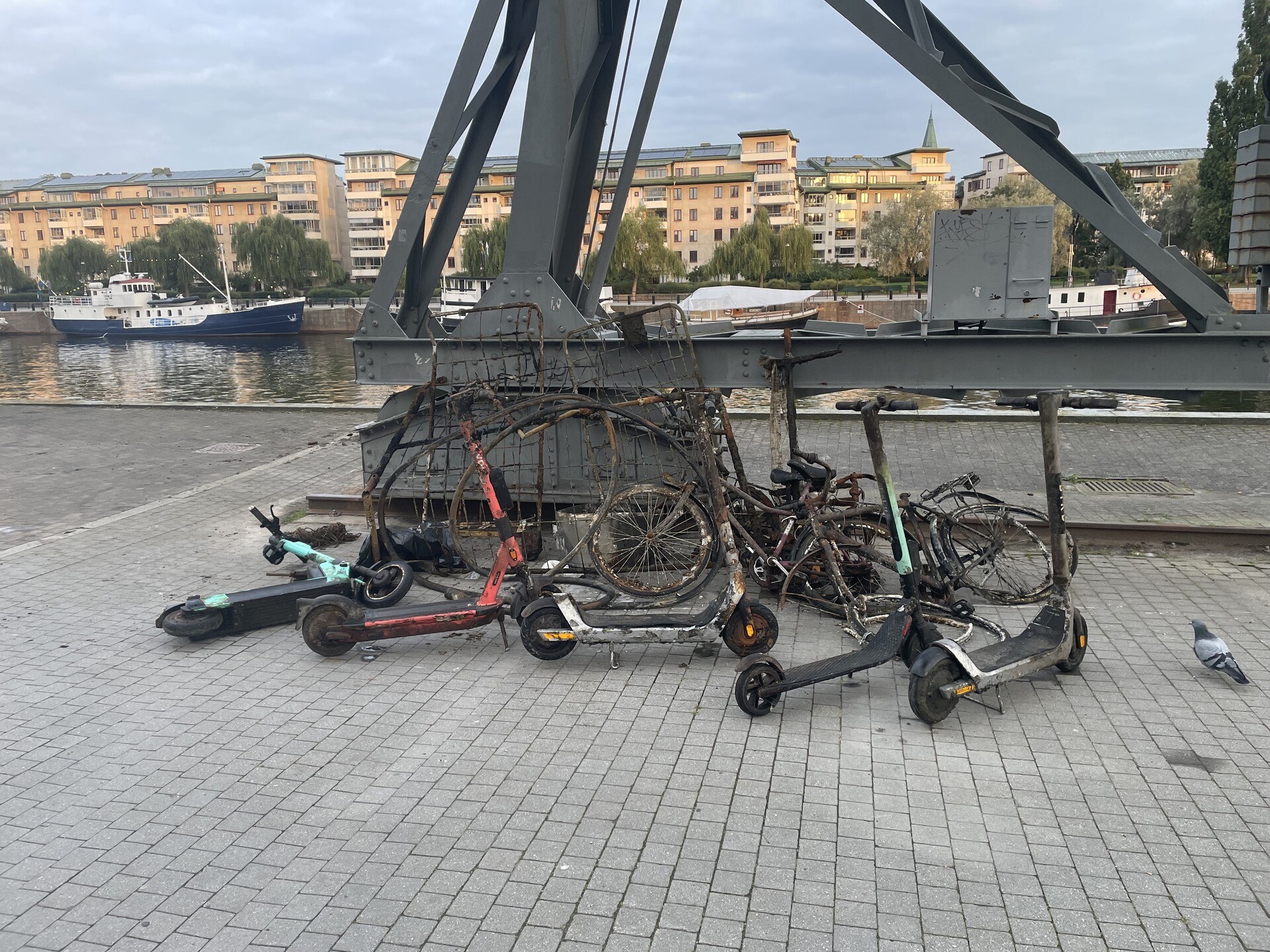 We've checked nearly everything off of our list of tourist spots to see, so we decide to make our last full day in Stockholm, appropriately, a smörgåsbord. We head, against our better judgement, back to Östermalm to visit the Saluhall, which is by a broad margin the fanciest market, indoor or outdoor, that I have ever seen. There is fish, meat, cheese, fruit & veg in abundance. A trio in exquisitely-cut suits sip cortados in a cafe making extravagant use of gold leaf. Kanelbullar in bell jars leer at me. I cannot muster the courage to ask for one. A pair of Canadian men are chatting up a lobstermonger. The lobstermonger is explaining that some lobsters have barnacles on them. I sneak a peek: the lobsters are, indeed, covered in barnacles. We steal away.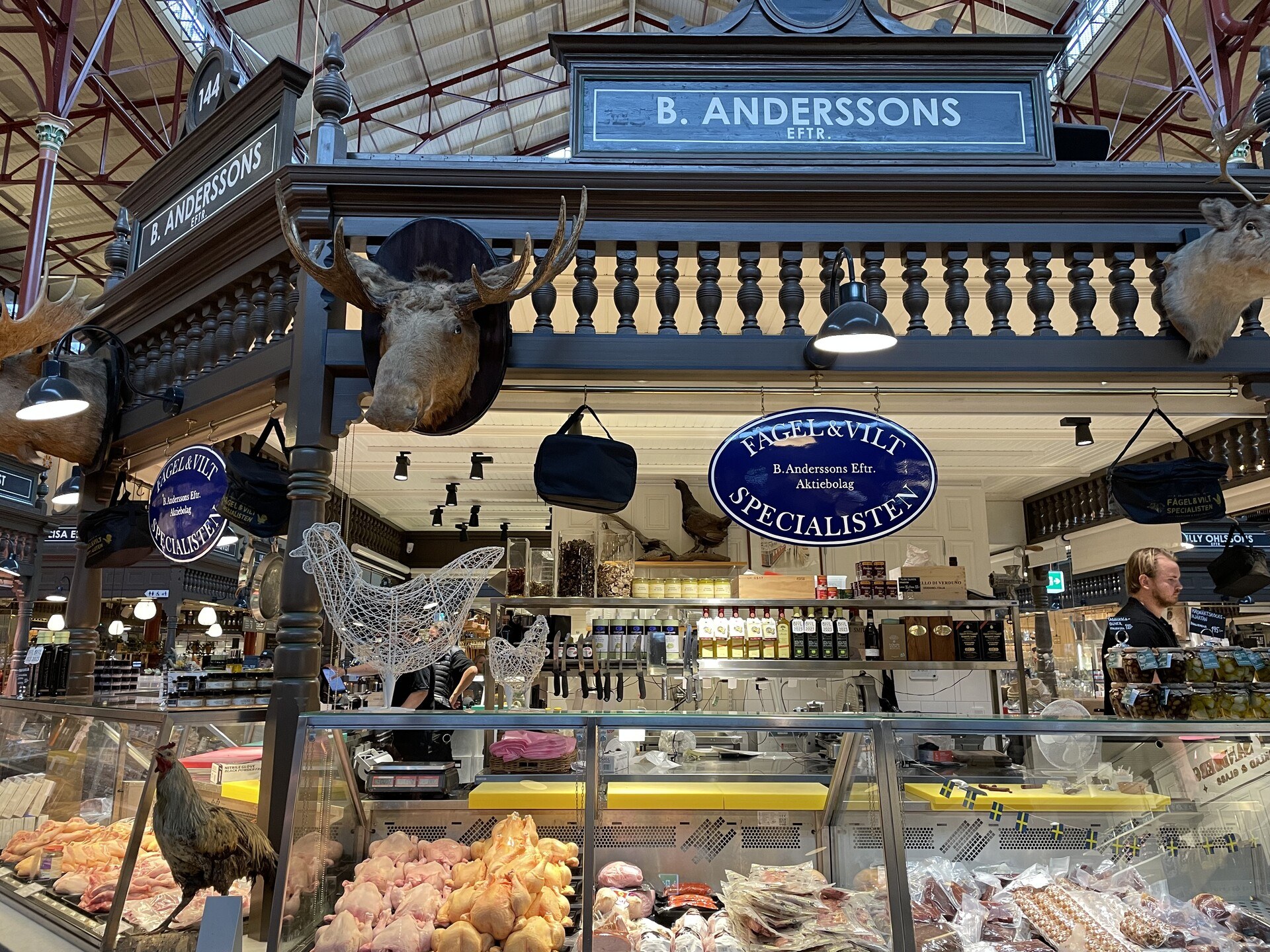 Hungry for bullar, we stroll over to a nearby Thelins on the advice of a listical detailing the best bullar on offer in Stockholm. Thelins feels like it's catering to Japanese people's idea of France. It's a bit fancy for a chain cafe, and the clientele are exactly the kind of people who'd be frequenting a fancy cafe at 11 am on a Monday—that is to say, old folks. The kanelbulle is alright, very light but with a decent chew. Top three, but nowhere near first place, which still goes to Skansen.
Seeking once again the highs of that first bulle, we head immediately to Bröd & Salt, Stockholm's homegrown response to Starbucks. I'd seen their advertisements on the Stockholm Metro on our first night in town, and I've been lobbying for a visit ever since. The lady behind the counter greets me with a "Hej hej!" which strikes me as both friendly and charming. I am, unfortunately, compelled to answer in English.
I don't ask for a "cinnamon roll", however—here, as elsewhere in Stockholm, I ask for a kanelbulle. I think it's polite, at least, to try using the local language when abroad, and besides, kanelbulle is only interchangeable with cinnamon roll in categorical terms.
On the way back to Södermalm, we stop at an outdoors store, a sort of Swedish Shūgakusō. At least half of everything they sell is Fjällräven. We abscond before I'm tempted into making a foolish purchase.
Lunchtime finds us back on Södermalm on the doorstep of Bruno's korvbar, Stockholm's premier korv-vendor. Bruno & his disciples elevate simple hotdogs into works of art: double-length sausages folded in half—hell, why not two of them!—and wedged into the carved-out butt of a baguette and stuffed with sauerkraut. We retire to a nearby bench to eat and recover.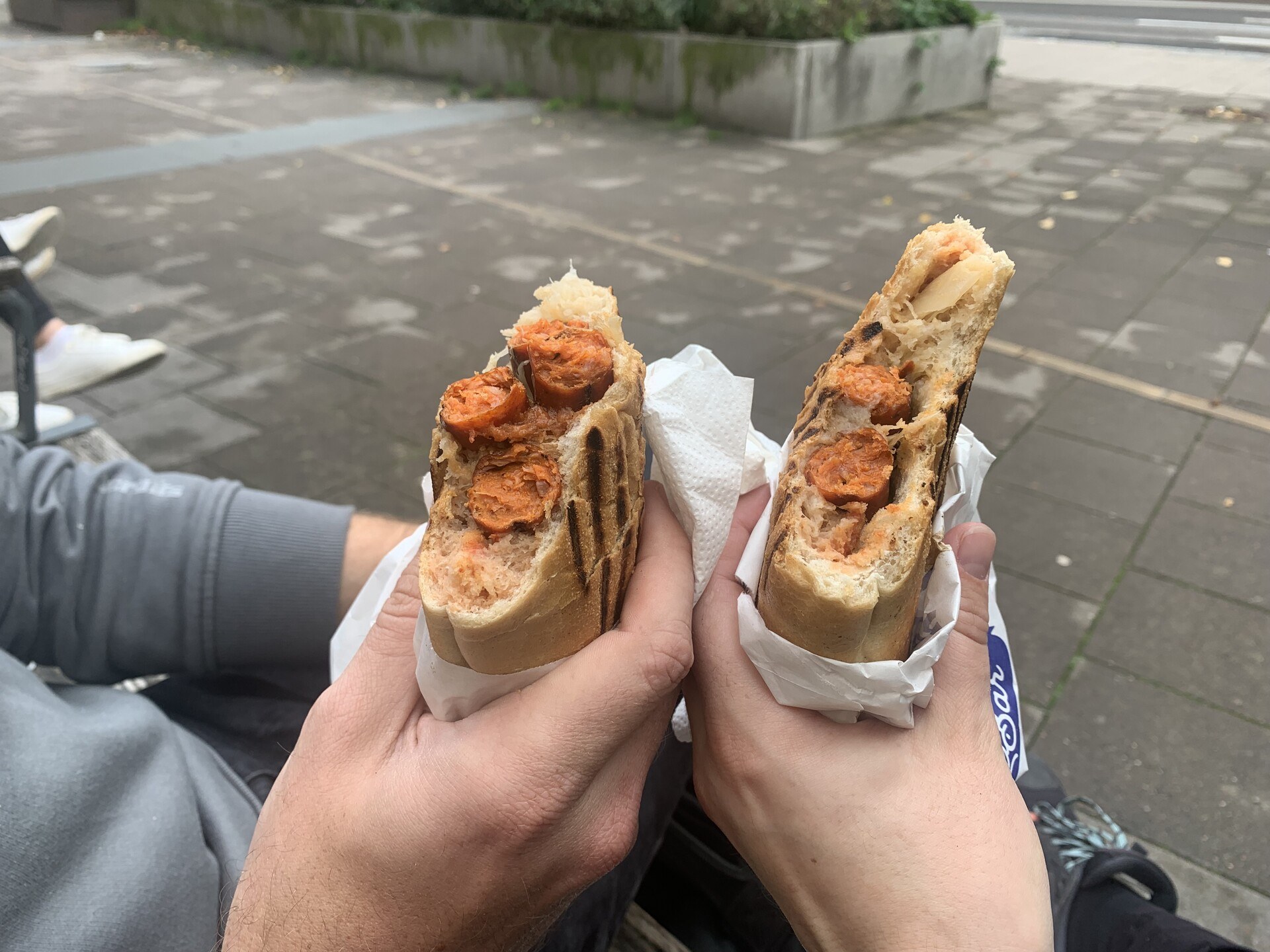 A final bulle for the day at Skeppsbro bageri in Gamla Stan: a bit flat, nice and dense. Free refills on coffee. Skeppsbro abuts a touristy area and caters to tired Europeans looking for an authentic fika experience. At the next table, someone says, "Isn't this nice? Or would you rather be sitting at home all day?" I take it that the question is rhetorical. On the other side of the window, a couple are feeding the remnants of some pastry to a flock of voracious-looking finches. I polish off the bulle and we skedaddle.
Stop for a beer on the way back to the hotel. Drinks down the pub (or down the bar, I guess) are a lot more expensive in Sweden than in the UK, and you only get 80% of what you'd get in a festival pint, which makes it worse. We drop by the Coop grocery on the ground floor of our hotel and grab a couple of Maristads(es) to enjoy in front of more weird Swedish TV.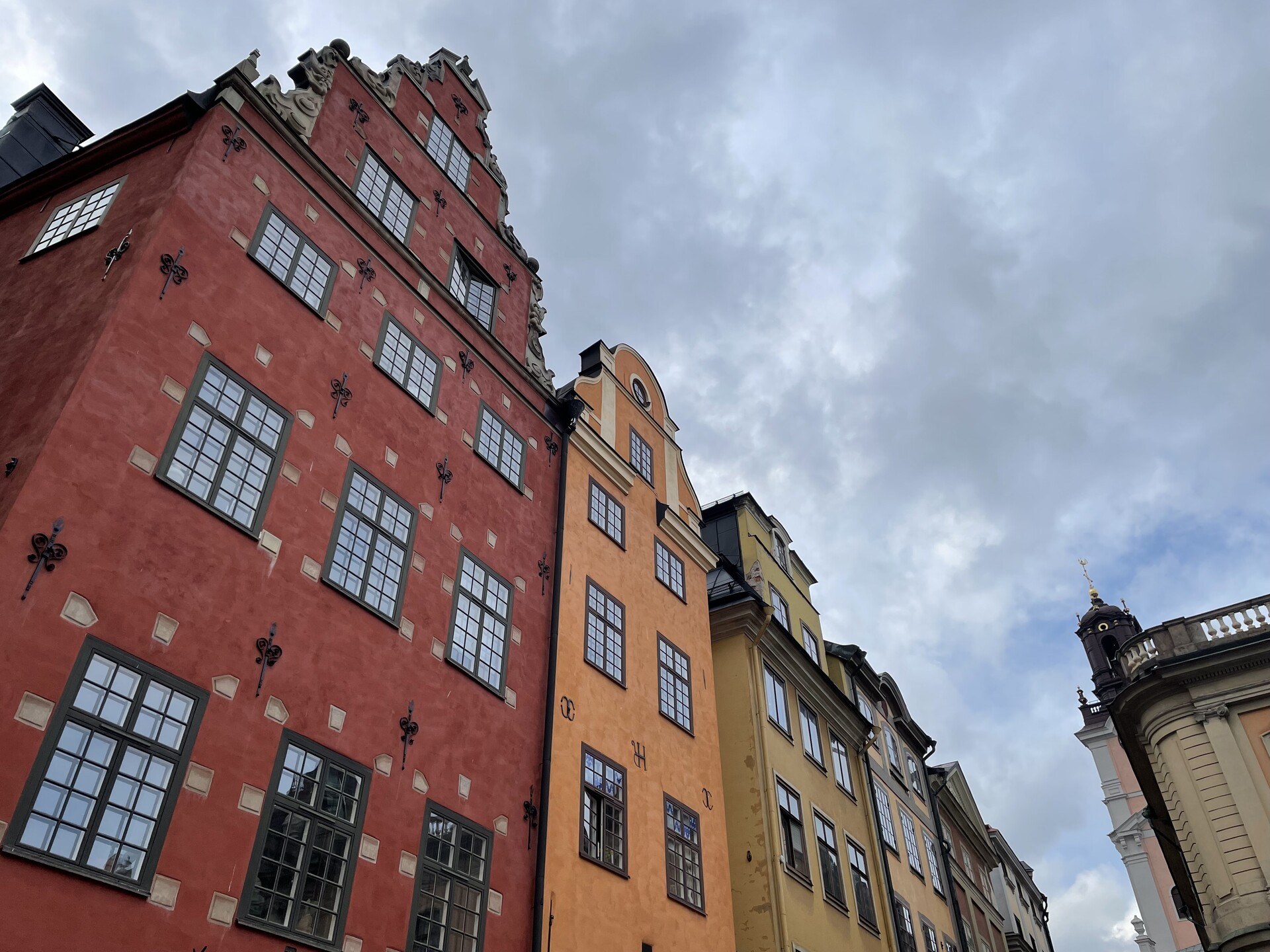 In the evening, we make our way back to Meatballs for the People, where we'd seen a huge lunch queue the day before. They'll make a meatball out of just about any mammal you can find in Sweden, but I go for the relatively-tame reindeer and a local stout. The meatballs are good, but I'm not sure they're good enough to queue for, and probably not as good as the price on the menu indicates.
Before bed we watch, inexplicably to either of us, all one hundred and twenty-three minutes of Soderbergh's Out of Sight, a tonally atypical heist movie starring George Clooney and Jennifer Lopez. Apparently the critics went wild for it when it came out, but only Don Cheadle's performance could hold my attention. Looking back, I suspect that we only leave it on as a respite from the enthusiastic Swiffer commercials that occupied, without pause, nearly every second of broadcast on every other channel.
Next
Last day in Stockholm. The most disappointing kanelbulle.
Previous
Going to a building with a big ship inside, coffee and kanelbulle in the fancy part of town, a disappointing pick'n'mix, being mistaken for locals at a kebab place.