We woke at 6 am and left the Travelodge on the A591 in Kendal and were on the road by 7. Drove through the dark towards Wrynose Pass; arrived before most and didn't encounter any traffic on the way up the 25% grade towards the top. Scattered parking places around the trailhead; stashed the Volvo and started the long, steep climb up to Wet Side Edge.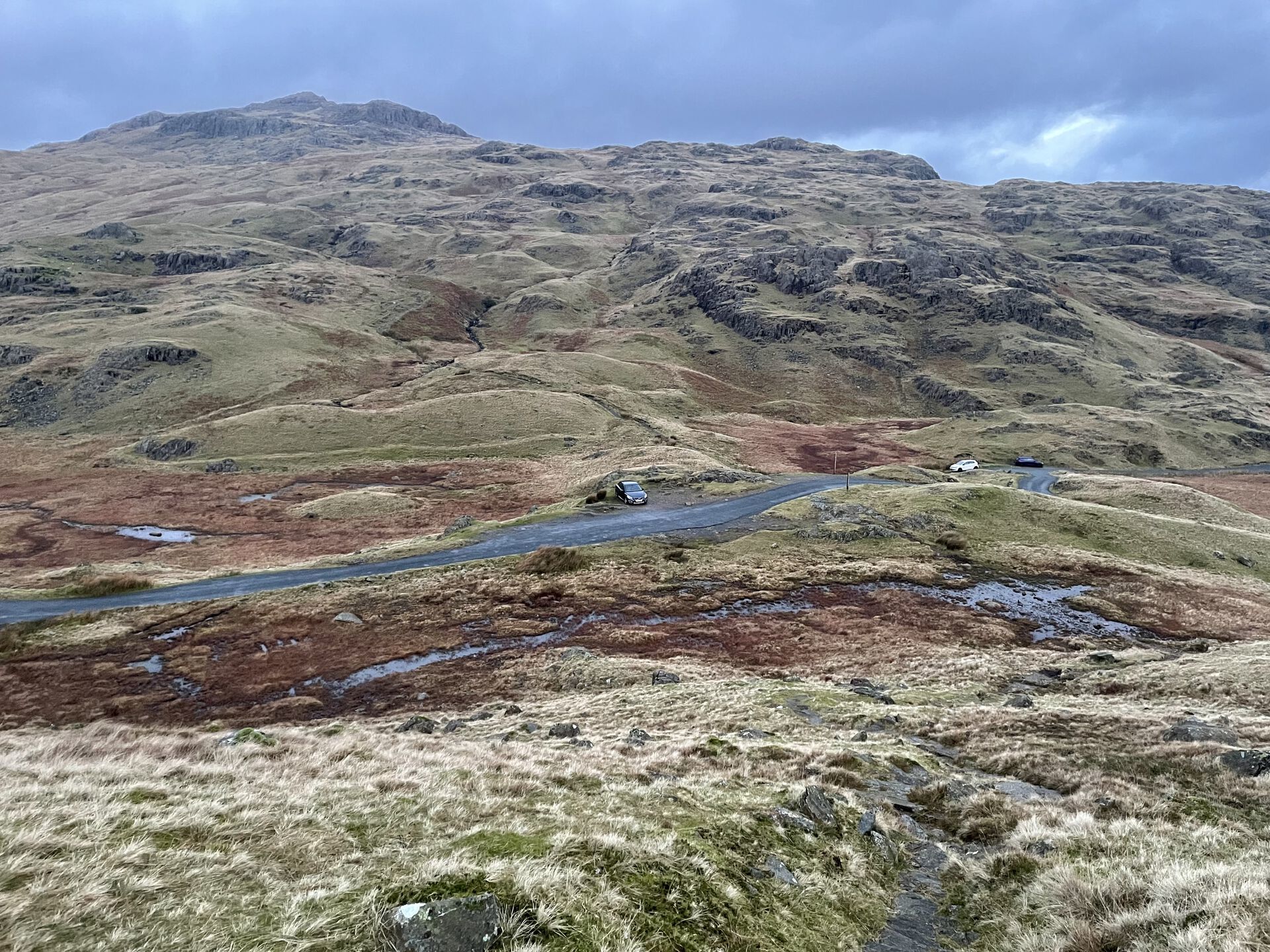 By the time we got to the top, the clouds had rolled in and we couldn't see much further than 10-20 feet in any direction. The trail up the grassy ridge was pretty clear all the way up, climbing over a little crag just before Little Carrs—and then on to the summit of Great Carrs shortly thereafter.
Met our first fellow walker at the summit and took a selfie, but there wasn't much else to see or do, so we set off for Swirl How. Easy walking across the top of Broad Slack; Wainwright says you can scramble up Broad Slack (past the wreckage of a WWII airplane) from Greenburn Valley but I'm not so sure.
The summit of Swirl How dominates the other Coniston fells, but we couldn't tell at this point, still being stuck in cloud. Struck off down Prison Band to the east.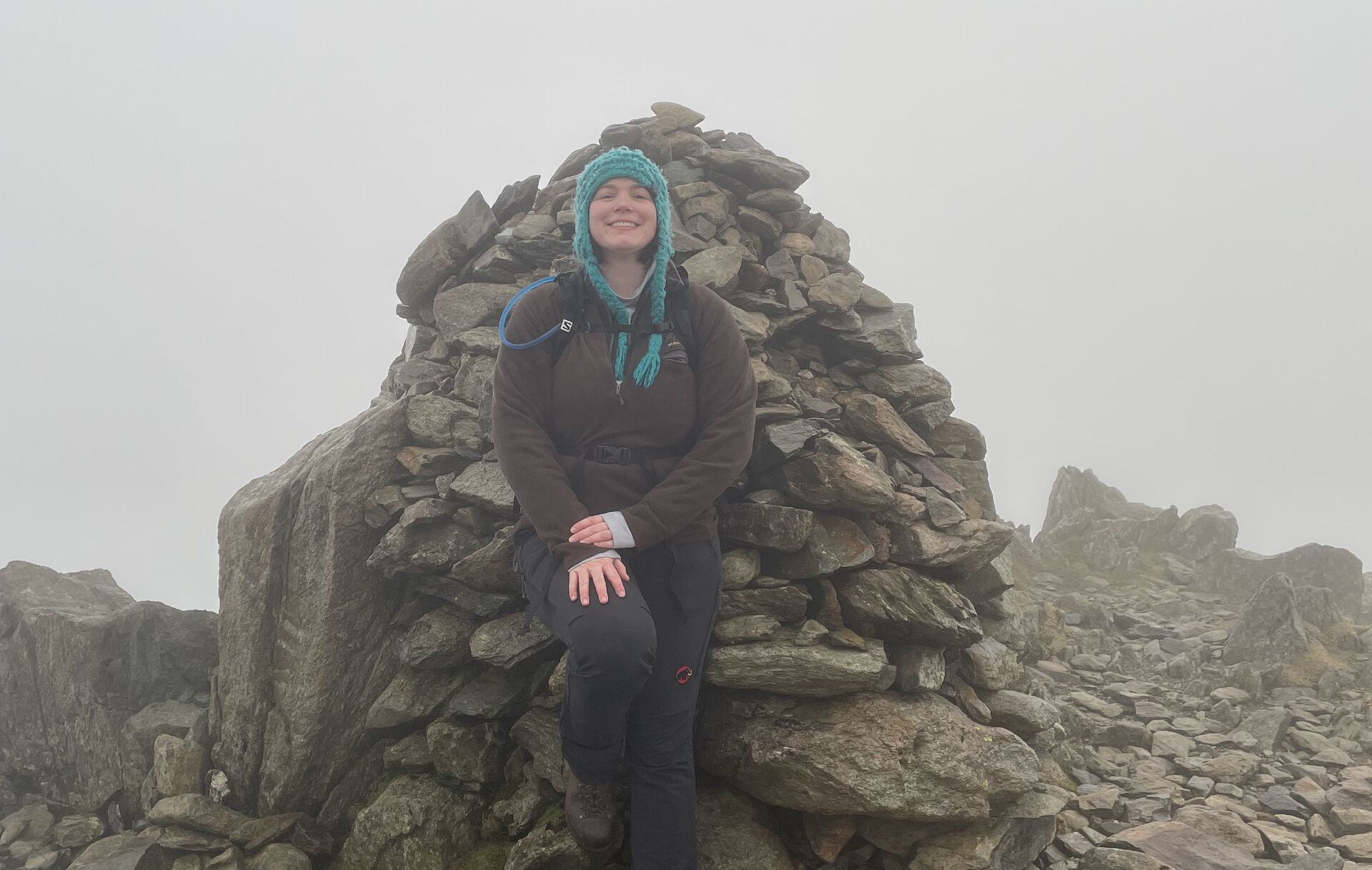 Prison Band's a dangerously slippy tumble of crags down to a saddle between Swirl How and Wetherlam called Swirl Hause. Past the saddle, we had a short climb back up to a long traverse up to Wetherlam—probably the least interesting route up, but almost completely without fuss.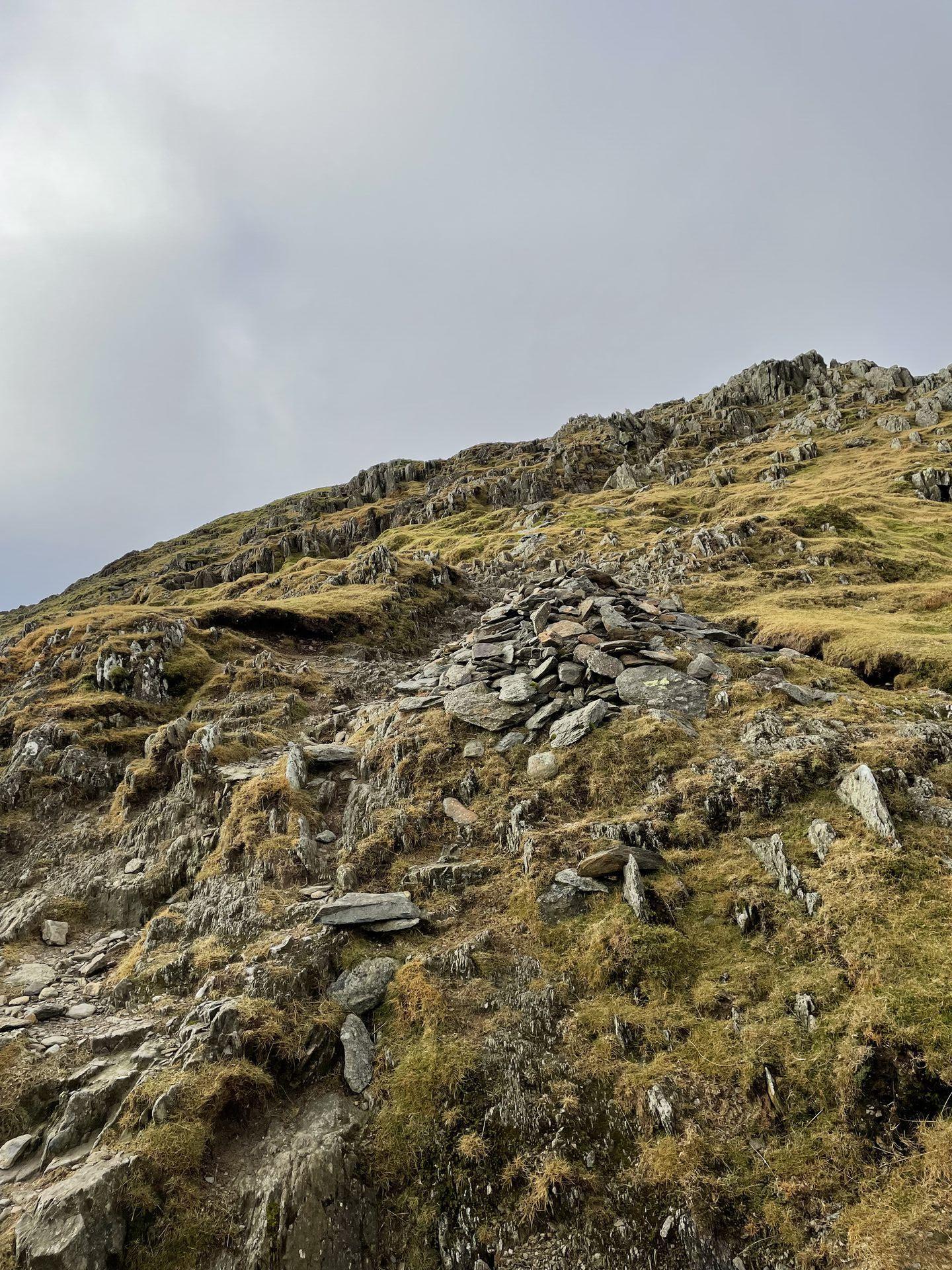 The summit of Wetherlam looks out on a rolling landscape of lower hills and crags and forests. Coniston's visible in the distance. The clouds started to lift at this point and we started seeing a lot more folks up on the fells.
Turned around and headed back towards Swirl How; the climb back up Prison Band went a lot more quickly than the climb down. Halfway up we ducked behind a rock and snacked on cheese and onion rolls and stroopwafels (for energy). Vitalised, we smashed out the last bit of the climb, returning to the summit of Swirl How in good spirits, just as the sun started to come out.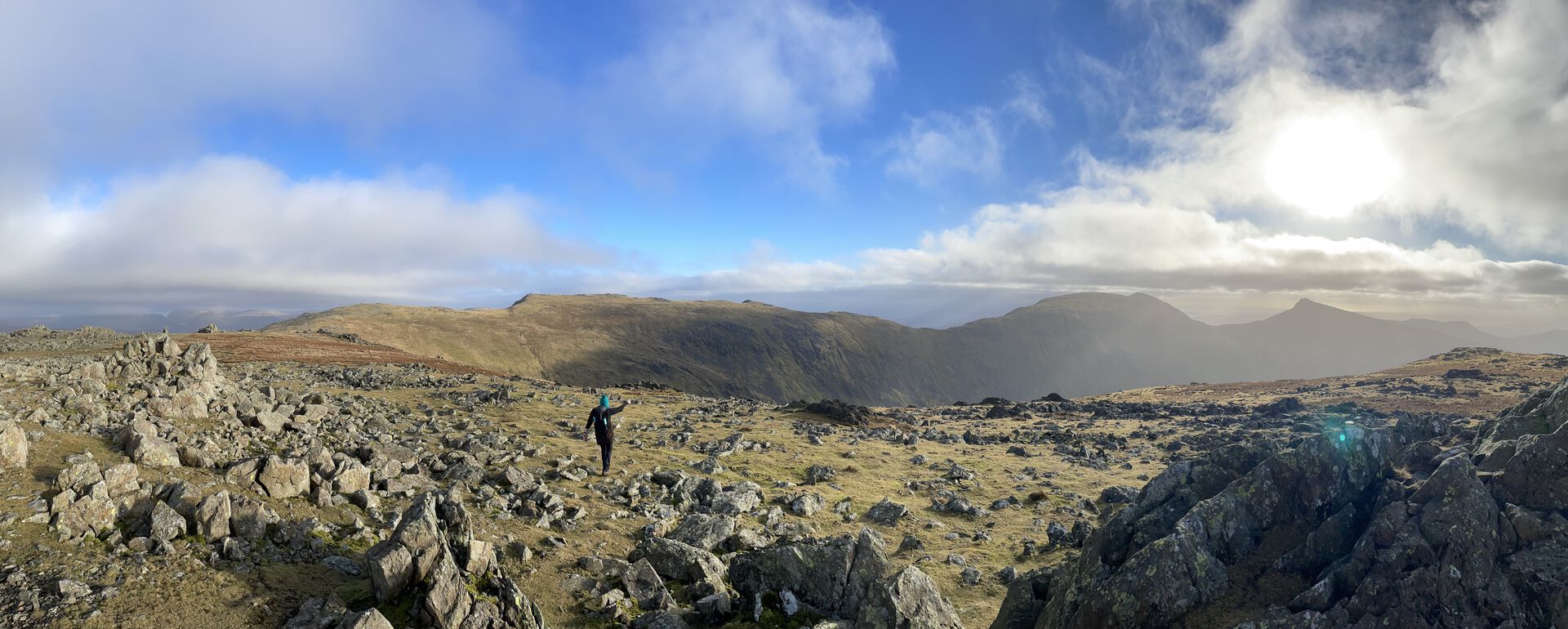 Last Wainwright of the day was Grey Friars, just across the way—trekked across the open grassland to a bit of a junction in the saddle between Grey Friars and Swirl How. The climb up the side of Grey Friars was simple enough—not particularly rocky, leading to a broad rock-strewn summit. Couple of different cairns at the summit of Grey Friars; we picked one and snapped a selfie with plenty of surrounding fells in the background.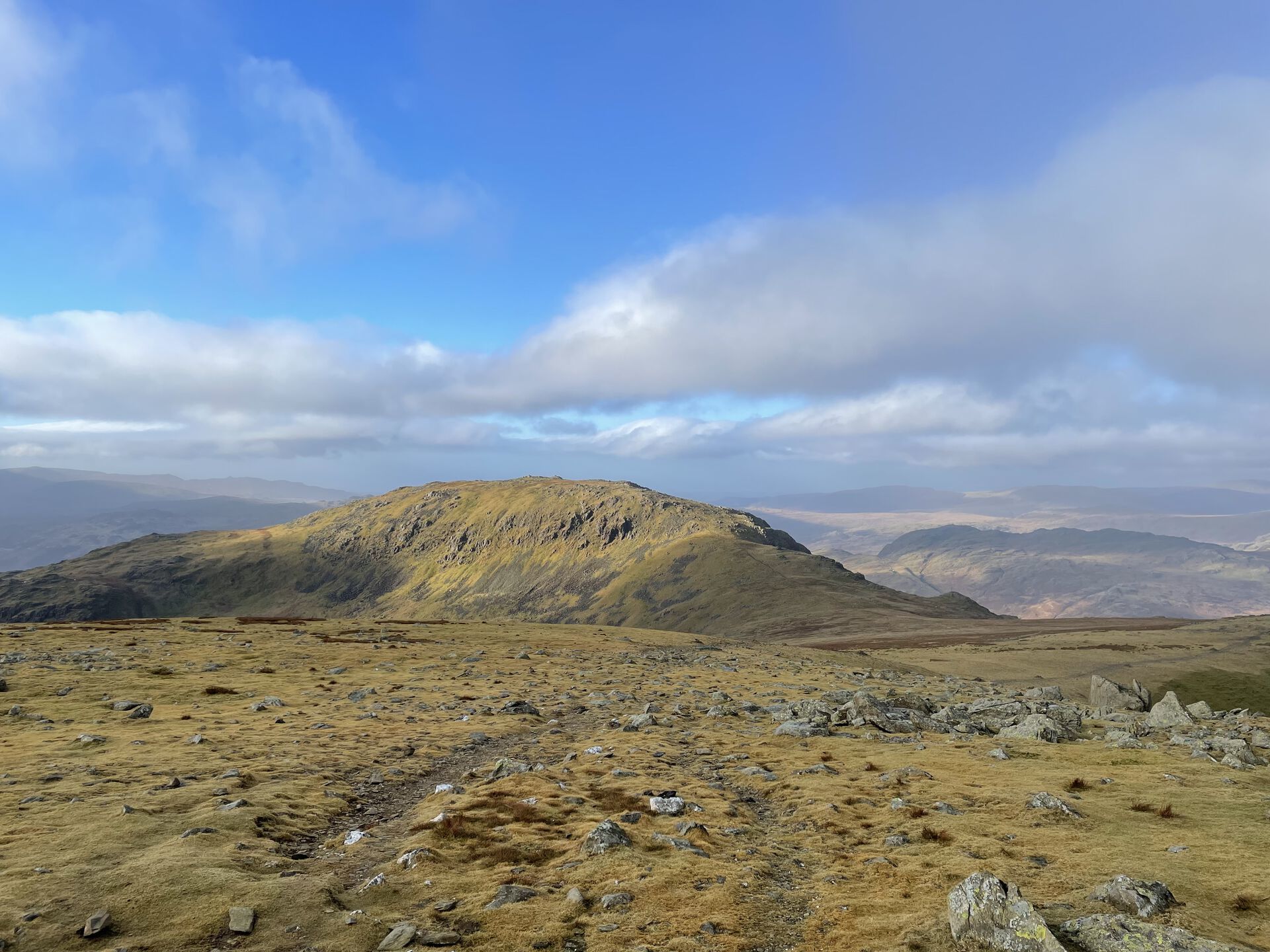 Trekked back down to the junction and cast off to the left for a traverse back to Little Carrs and back down Wet Side Edge to the car in (if I do say so myself) a pretty blistering time.